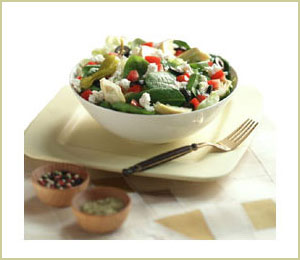 What's your favourite Hagens recipe?
To share your Hagens Dressing recipes, send us an email at hagensdressing@drytel.net. With your permission, we will post them for others to try. If you have a digital photograph of your creation that you would like to add, we would also love to see it and add it to the site.
Try these scrumptious Hagens recipes
Hagens Own Greek Salad
CLICK HERE for a printer-friendly page of all Hagens Dressing recipes.
Recipes
Hagens Own Greek Salad
Visit The Riverview Lodge in Dryden, Ontario to order and taste this amazing salad. Once you experience the joy of eating this salad, you'll certainly want to try it at home.

Ingredients:
Diced cucumber
Diced tomato
Diced green pepper
Diced red pepper
Diced red onions
Kalamata olives
Crumbled feta cheese
Greek seasoning (optional)
Hagens Dressing (a must)

Instructions: Toss all ingredients together in Hagens Dressing about 1 hour before dinner. Refrigerate and toss again just before serving. Should you be fortunate enough to have leftovers, cover and refrigerate. After a day in the fridge, it often tastes better!

Recipe Note: The above ingredients are the ones we enjoy. Amounts should depend entirely on personal tastes and the size of the party.