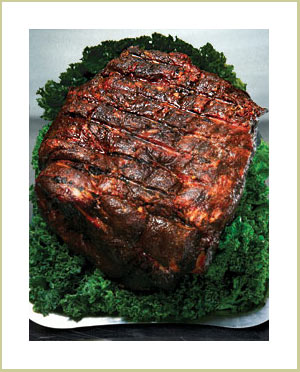 What's your favourite Hagens recipe?
To share your Hagens Dressing recipes, send us an email at hagensdressing@drytel.net. With your permission, we will post them for others to try. If you have a digital photograph of your creation that you would like to add, we would also love to see it and add it to the site.
Try these scrumptious Hagens recipes
Marinated BBQ Roast Beef or Pork
CLICK HERE for a printer-friendly page of all Hagens Dressing recipes.
Recipes
Hagens Marinated BBQ Roast Beef or Pork
Ingredients:
Roast of beef or pork
1 500 ml. bottle of Hagens Dressing
2-3 cloves crushed garlic
1 tsp. salt
1 tsp. pepper

Instructions:
1. Mix Hagens Dressing, salt, pepper, and garlic.
2. Pour mixture over your roast and marinate in the fridge for 4 to 6 hours.
3. Preheat barbeque to 400 degrees to sear the roast.
4. Turn off one side of the barbeque and place the roast on this side.
5. Baste your roast every 5-10 minutes with remaining marinade until your roast is cooked to your preference.

Note: Recipes suggested by Lynne Hansson from Dryden, Ontario.