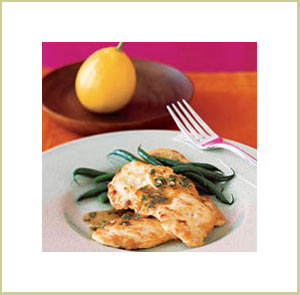 What's your favourite Hagens recipe?
To share your Hagens Dressing recipes, send us an email at hagensdressing@drytel.net. With your permission, we will post them for others to try. If you have a digital photograph of your creation that you would like to add, we would also love to see it and add it to the site.
Try these scrumptious Hagens recipes
Lemon Chicken
CLICK HERE for a printer-friendly page of all Hagens Dressing recipes.
Recipes
Hagens Lemon Chicken
Hagens adds flavour to your chicken and keeps it moist. Although this recipe calls for it to be cooked in an oven dish, the chicken can also be wrapped in individual foil packs and cooked in the oven or on the barbeque.

Ingredients:
Fresh chicken breasts (thaw if frozen)
Salt and pepper
Rhind and juice of one lemon
Fresh chives or green onions
Hagens Dressing

1. Season both sides of chicken breasts with fresh ground salt and pepper.
2. In a shallow dish arrange chicken breasts and pour Hagens Dressing over them. (I use 1/3 to ˝ bottle for a 9" x 13" dish.)
3. Sprinkle the zest of one lemon on top of the chicken and squeeze the juice of the lemon over as well.
4. Bake covered at 350°F (175°C) for about ˝ hour.
5. Uncover, baste tops of chicken with the juices, increase heat and continue baking till slightly browned.
6. Chopped fresh chives or green onions are a perfect 'topper' or garnish.

Note: Recipe suggested by Kerry Burgstaler, Dryden, Ontario.