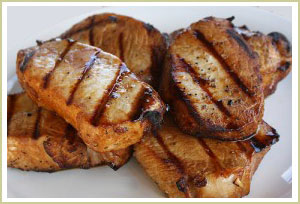 What's your favourite Hagens recipe?
To share your Hagens Dressing recipes, send us an email at hagensdressing@drytel.net. With your permission, we will post them for others to try. If you have a digital photograph of your creation that you would like to add, we would also love to see it and add it to the site.
Try these scrumptious Hagens recipes
Hagens Pork Tenderloin
CLICK HERE for a printer-friendly page of all Hagens Dressing recipes.
Recipes
Hagens Pork Tenderloin
Ingredients:

4 pork tenderloin
1 cup Hagens Dressing
1/2 cup soy sauce
3-4 cloves fresh garlic (chopped)
1 tablespoon lemon pepper
1 tablespoon fresh rosemary

Directions

Combine all the ingredients together in a zip lock bag and allow to marinate overnight. I like to barbeque on high heat for about 5-10 minutes and then finish in the oven at 325 degrees for approximately 45 minutes depending on the size of the tenderloin. Don't overcook! Absolutely Delicious.

Note: Recipe suggested by Tim in Ottawa, Ontario.