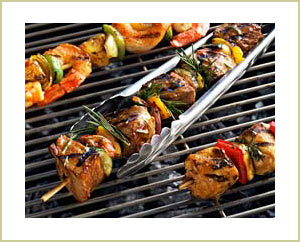 What's your favourite Hagens recipe?
To share your Hagens Dressing recipes, send us an email at hagensdressing@drytel.net. With your permission, we will post them for others to try. If you have a digital photograph of your creation that you would like to add, we would also love to see it and add it to the site.
Try these scrumptious Hagens recipes
BBQ Shish Kabob
CLICK HERE for a printer-friendly page of all Hagens Dressing recipes. Note that the page will open in a new window.
Recipes
Hagens BBQ Shish Kabob
Ingredients:
Chicken or beef
Red pepper
Yellow pepper
Onions
Mushrooms
Zucchini
Hagens Dressing

Instructions: Marinate bite size chunks of chicken or beef in Hagens Dressing and refrigerate for a few hours. Thread skewers by alternating meat with chunks of red peppers, yellow peppers, onions, mushrooms, and/or zucchini. BBQ and baste using Hagens Dressing as required.

For variety, try using shrimp, pork or lamb.

Note: Recipe suggested by Ed in Kelowna, BC.