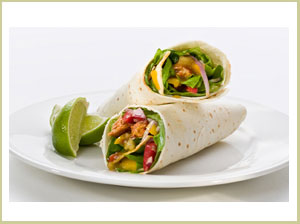 What's your favourite Hagens recipe?
To share your Hagens Dressing recipes, send us an email at hagensdressing@drytel.net. With your permission, we will post them for others to try. If you have a digital photograph of your creation that you would like to add, we would also love to see it and add it to the site.
Try these scrumptious Hagens recipes
Hagens Wrap
CLICK HERE for a printer-friendly page of all Hagens Dressing recipes.
Recipes
Hagens Wrap
Ingredients:

1 Tbsp. Hagens dressing
1 tortilla (8 inches)
slices of chicken or ham
romaine lettuce or spinach leaves
dried cranberries
goat cheese

Directions

Spread Hagens dressing onto tortilla. Top with remaining ingredients and sprinkle a bit more Hagens. Roll up. Wraps can be made ahead of time. Simply wrap them up tightly in plastic wrap, then refrigerate up to 8 hours.

Note: Recipe suggested by Suzanne in Thunder Bay, Ontario.